We have represented Underwriters and owners for a very wide range of insurance claims. These have included sinking, stranding, dismasting, mechanical breakdown, fire, arson, theft, personal injury, third party damage, flooding whilst in storage, latent defect, warranty claims, product liability, heavy weather damage and of course hurricane damage ashore and afloat.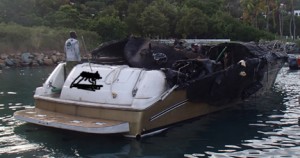 We are routinely appointed by European, British and American Underwriters to attend vessels throughout the Caribbean to assist them with insurance claims. We usually handle about 150 losses each year (not including hurricane claims). We are pleased to be able to state that almost all insurance claims were settled on an amicable basis. The several which were not amicable were because we refused to agree with the owner to cheat the insurance company or where the loss was not covered under the policy.
We have produced a Claim Guide to Making an Insurance Claim, which most people have found useful. Learn more about our Claim Guide.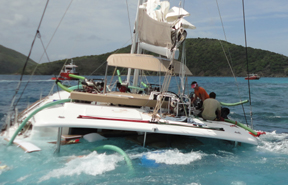 We also work for owners with damaged vessels, to advise them of the nature of the damages and make recommendations for repairs. These damages could include warranty claims on new vessels or damages to uninsured vessels.
We charge US$225.00 per hour with a minimum of two hours.
We use digital cameras, have underwater photography equipment and ultrasonic thickness gauging equipment.
OSMOSIS DAMAGE is a seperate topic.
If this an emergency or outside normal hours call (1) 284 346 3999 or email mayday.caribsurveyors@gmail.com.
For normal contact please use (1)284 346 2091 email info@caribsurveyors.com
Our Contract
Please review our Survey Contract. You can print it and either fax it to us or scan it and email it to us when we have agreed terms and dates etc.